Model: GT2 - 1.6TD conversion
Year: 1989
Mileage: 81,000 on the shell, engine unknown
MOT: 10 months
Current owner: Me
V5 present: Yes
Location: Cardiff
Price: £2000
Contact Details: PM on here please
Additional Information:
Putting my Scirocco GTD up for sale, as realistically I'm not using it enough to justify keeping it plus life keeps having a habit of getting in the way. It's a perfect unusual daily commuter, but I don't need to commute!
Started life as a 1989 Scirocco GTII in Tornado red with the tartan interior, and a 1.8 8v with a Pierburg carb. I bought it in 2013 from the second owner (I think), a 20-odd year old lad who had bought it from the old guy who had bought it new. Most of the perishable service items had deteriorated so I spent some time going through replacing bushings/ boots etc.
About 2 years ago it blew it's head gasket after about a year of struggling to get it to run correctly. I was doing a long commute at the time, so decided to convert it to a 1.6td engine from a Mk1 Golf turbo diesel. It therefore has a custom-altered engine mount, and a modified exhaust downpipe. At the same time as the conversion (which dragged on) I fitted a long ratio 020 4T gearbox (sought after) which means 70 is about 2500rpm. The conversion stalled when I moved job, and since then I've never had the need to use it.
The Good:
11 months MOT
81,000 miles on the shell, engine unknown
Fresh service at same time as MOT
Glowplugs refreshed, cambelt, tensioners etc replaced at engine conversion <500 miles ago
Recent alternator rebuild (few months ago)
Lowered by 40mm all around with Eibach (will check) front struts and proper lowering springs. The rear struts are with it to be fitted.
Cheap tax (£20/month)
50 mpg
Very cheap insurance (£120/year for me)
Pompe Bosch, veg ready
BMW 325d fuel filter
Solid - has some surface rust just starting on the underside but the sills are all good metal and there's no proper rust to speak of. Garaged most of it's life with the old boy and it shows.
Period giffer accessories.
Massive list of minor upgrades I've made as I've gone; e.g. braided brake lines, upgraded speakers, better period radio...
The Bad:
The wiring needs tidying up (currently the fusebox is cable-tied to the bulkhead)
The coolant temp gauge is on the fritz (I think it's the dash connection as I've changed the sensor, will take a look this weekend)
The rev counter doesn't work
The gear selector mechanism hits the exhaust, making a nice tinkling noise for about 200rpm of the range. I drive around it. I was going to get a proper custom system fitted to solve this.
Can be reluctant to get into first, because of the above.
The Ugly:
The paintwork is terrible. Faded, worn through to the basecoat places. It's at least a 20-footer. I was going to respray it but can't justify it.
In happier times: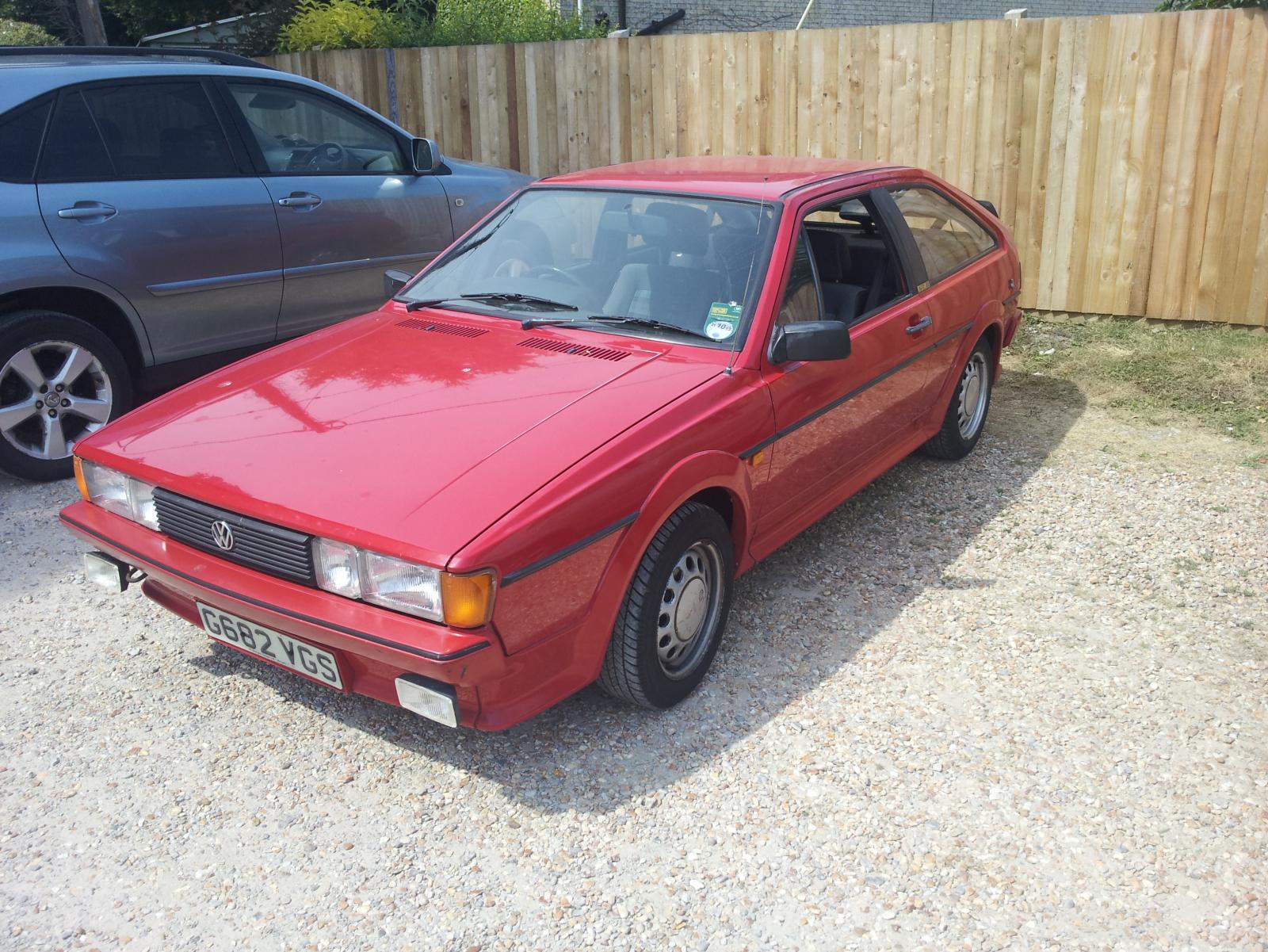 Walkaround:
https://youtu.be/3CUwUnfH1QM
I'm after
£1000
. About a 1/8 of what it owes me, but these aren't worth much as they're not scene taxed. Based in Cardiff, recently drove to Bristol and back no bother. Comes with the original engine and a spare 1.8 8v mk2 Golf gti gearbox, plus my spare dash and interior parts.
Pricedrop as I want it to stay in the fold, without resorting to eBay.