I'm calling the car 'Mono', short for Monosodium Glutomate cos of the 'MSG' reg number...
Well I've had Mono since August this year. It's definitely had one or two strange owners in the last few years...hence the paintwork situation. Here's how it was when I bought it :
Dark smoked rear light lenses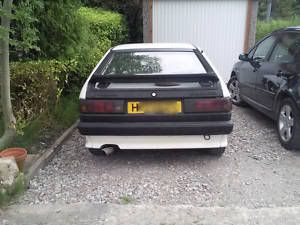 Matt black paint around the car which covered up some strange artwork from the previous Goth owners! Some Rover 15'' alloys too..eek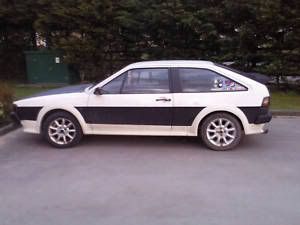 Completely matt black bonnet. Slightly wrong kind of front fog lamps for the car, smoked indicators, eyebrow spoiler.
The gear selection was out of alignment but didn't put me off buying it. You had to plunge the stick down to find 1st and second...and had to be careful not to get reverse instead in traffic! I soon got the knack. There was a loud rattle from the front suspension aswell, which I was confident I could sort out...I could see the top mounts were past it and I secretly hoped it was just lack of anti rattle shims on the brake pads...that would be an easy fix! The rattle went away when I tickled the brake pedal you see ;)
I got the car home and later I changed the front suspension top mounts, and as I had some new springs in the garage that were spares for my Mk1 Golf, I wacked those on aswell. Whilst the wheels were off I noticed the front brake caliper was 'loose' as I could rock it around! The top allen head bolt was just spinning freely and wouldn't tighten, so only the bottom bolt was holding the caliper on! That's what was making the rattling sound I think...far too much movement.
At least it got me home!
I went to my first meet near Durham before I'd had chance to change anything about the car. I was lucky enough to meet several of you Scirocco Register members. Ian (aka ianaudia4) and Tony (aka Mazzellan) even sorted my gear selection issue for me there and then! It was like Christmas! Can't thank you guys enough. The gears are now perfectly normal! Got loads of advice from others like Colin (aka DT1) too, and saw all your lovely Sciroccos! :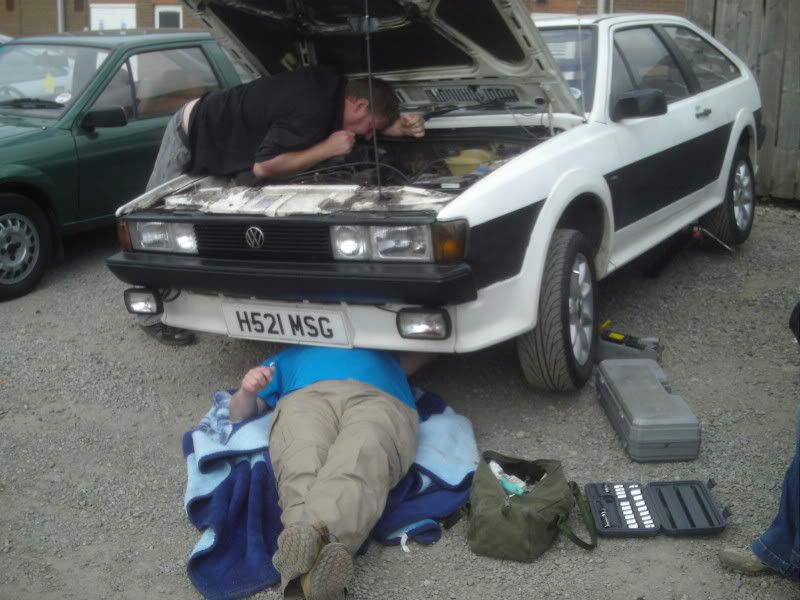 Then more recently I've started, slowly but surely changing some of the styling to how I'd prefer it (much more original looking)...normal rear light lenses first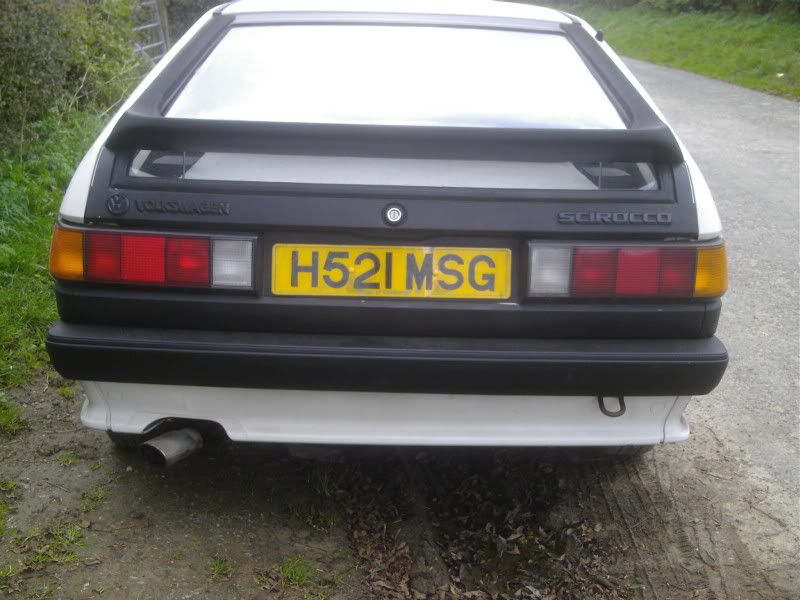 Original alloys found thanks to Ian (ianaudia4) :
: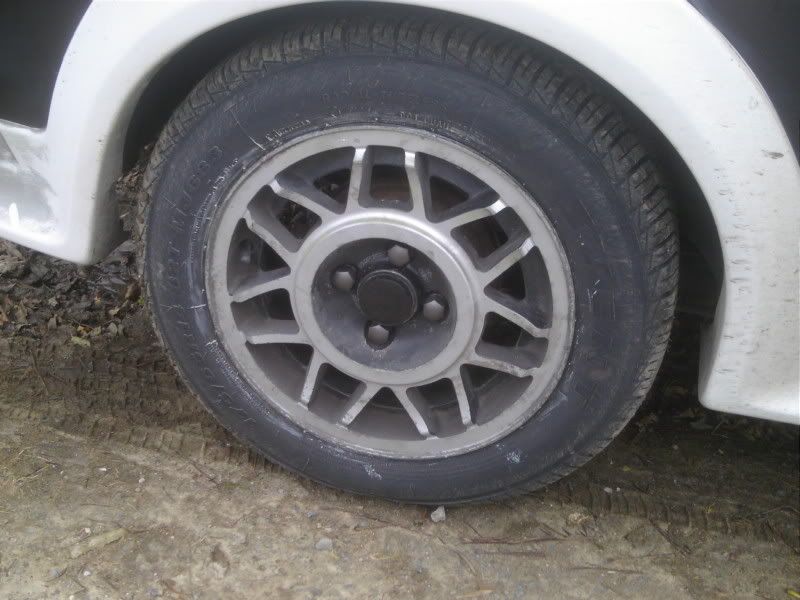 Correct fog lamps fitted and amber indicators, eyebrow spoiler removed :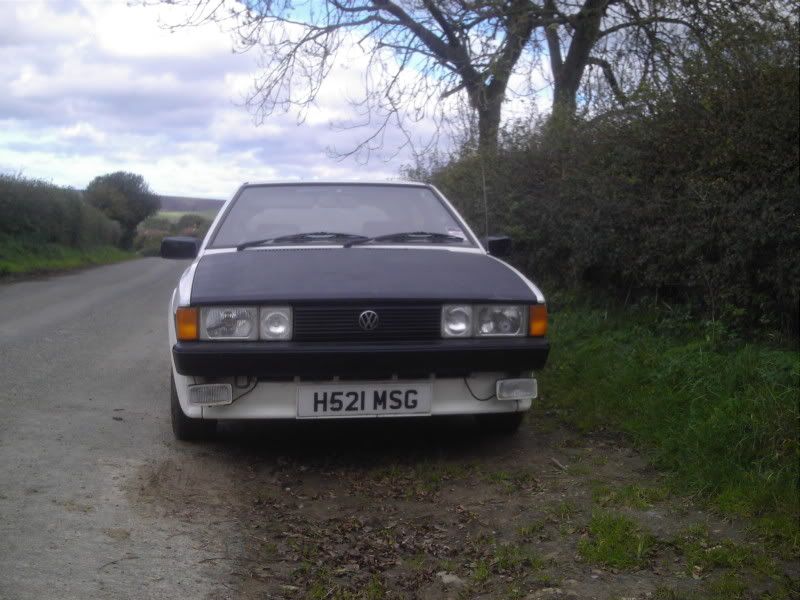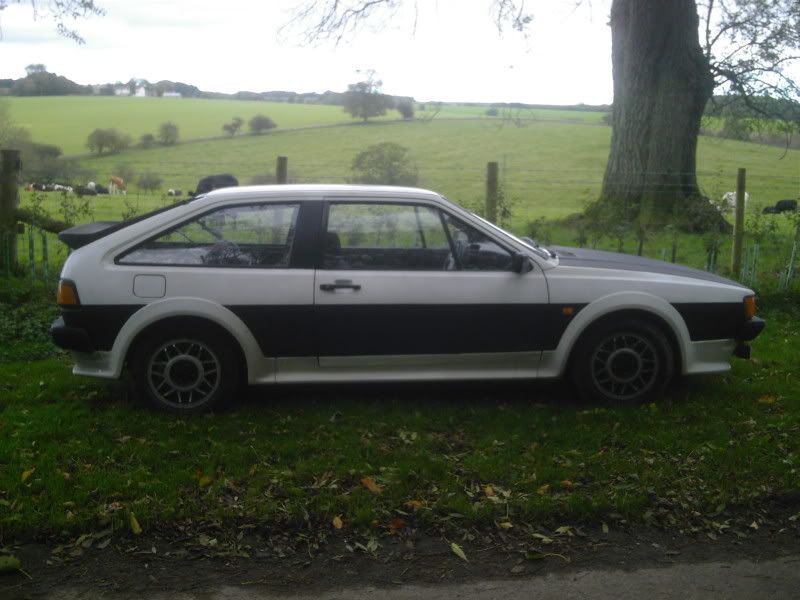 I put on a Pool ball gear knob...'oh no!' I hear you cry, but it suits the car so well and feels like it's meant to be there, I love it!
The interior has been nicely preserved under seat covers so I'm grateful for that!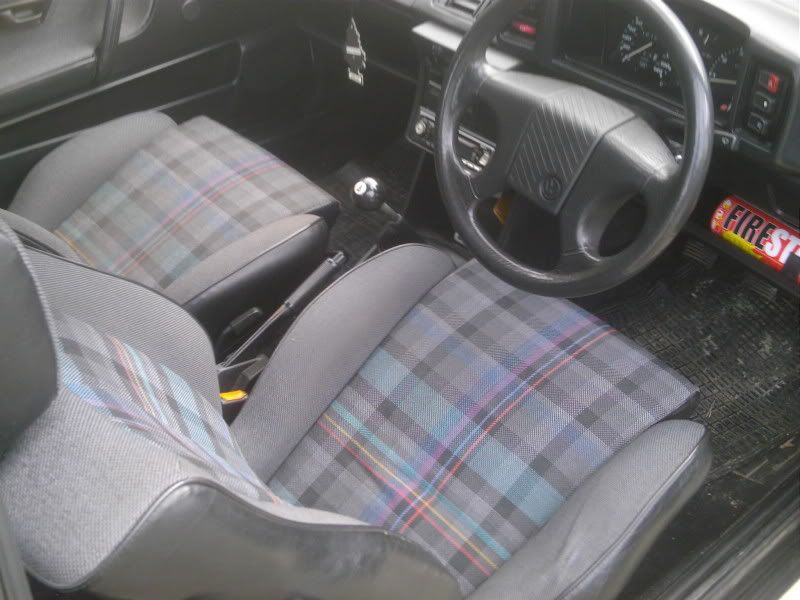 Engine-wise it runs REALLY well and I'm so suprised how quick it is! It's got a Weber carb, otherwise I probably wouldn't have bought it to be honest. So far under there I've just been sorting out superficial stuff like putting on the correct size fuel filter, replacing hoses, putting on the correct air filter bracket mounting and changing the air filter and oil/oil filter. Ian kindly renewed all my vacuum hoses at the Durham meet too! The brown messy bits near the suspension top mount are Kurust by the way (previous owner). Still plenty to tidy up under there, but it all works so I'm happy!
My plans now are to get the car back to it's normal white state...I got a couple of quotes for professional body shops to do it for me (as low as £400 just to sort out the black bits), but have decided I might have a go myself. I've done a bit of spraying on inconspicuous areas on my Golf when getting rid of rust bubbles, so aren't totally new to d.i.y spraying. At worst I do a dreadful job and have to take it to the bodyshop. It already looks rough so it's not like I'm wrecking a pristine car! I'm going to cheat and put on a white bonnet as that's so much easier than spraying this black one! My logic is that it's the biggest panel I need to to do and is actually the bit of the car everyone's going to look at first so if I get it wrong it will be more noticeable than anywhere else. Once the white one's on I'll only have the side stripes and two small strips at the back to do myself.
Watch this space...I've bought some paint and plan to get things underway next week. I'm also going to change my rear springs and more importantly the spring top caps as one is more air than metal! Catch you later!