I have owned the car for about 2years now, and in total I think I have probably driven it a maximum of 400miles. The reason for this is because when I bought the car it had been kitted out with a Audi TT 1.8 20v Turbo engine and all the trimmings. Unfortunately, on the way home (about 30miles after I'd handed over a fairly substantial wad of cash) the oil pressure light came on and started beeping at me...So I pulled over on a very busy M25 at 5pm and turned it off, had a look but couldn't see anything untoward, oil was clean and filled up. So I carried on home, the beeps came again, in fact it was every time I took it over 2500rpm, so that meant I had to drive the 180miles home at 55mph on the motorway. I got it home in the end and spent the next few weeks changing a few bits like the oil pickup pipe, new oil/filter. Did an oil pressure check, it seemed ok.... A week later it completely blew the turbo. As in snapped the turbine shaft in half. I was gutted!!!!!! I blamed the previous owner a bit
, but it was my issue now – sold as seen and all that lark, not that I ever rang him back to tell him. I managed to limp it home – as there is no towing eye available at the front, which I think killed it off – I never ran the engine again on inspection the Oil Feed pipe to the turbo had blocked, solidified and caused the bearings to overheat and fail.
Then as fate would have it, I stumbled across a lovely little house I wanted to buy and that was the Scirocco on the back burner, cleaned and put away in the garage where it has remained for the last 18months. I did buy a new turbo, but then when my plasterer wanted £2k off me, I decided to remove the engine, sell it and start again because I was short of cash. These blasted houses bleed your wallet dry!!!!
So that is how it is today... Engine-less, with no bonnet on, without an ECU, wiring harness, gearbox, and sat in a big puddle without the front wheels on resting on a neat pile of house bricks! Generally its looking a bit sorry for itself. Well actually it doesn't look sorry for itself at all it still looks Hard as Nails, like it will kill you if it wanted but that's just the car, I myself feel a bit down in the dumps about her. I have recently bought myself a Mk2 16v and driving this, combined with all of this lovely sunshine we've had this week has given me the spur I need to fix it. I have seen the light, as they say in that building with the tall tower...
Right, plans for this year.......
It deserves a decent engine so I'm keeping the eyes peeled for a 2.0 16v ABF engine or even better a full Mk3 Golf so I have everything. For the moment I am more than likely going to retain the standard ECU and fuel set up for ease of fitting, but I've acquired a set of Fireblade Throttleboddies which I'm planning to fit at some point, and make myself a manifold and run it with Megasquirt.
I am going to fit a rod change gearbox because I'm not changing to a hydraulic pedal box which you need to do to properly fit a 02A, I had a 02A fitted before but it was done using a SEAT Ibiza cable conversion and wasn't that nice to use. May end up changing the pedal box but its a lot of work.
Change all the brake lines on the car because I ended up breaking them when I tried to undo them – they were seized HARD!!
Change the sub frames under the seats because the driving position is awful.
Finish the Corrado dash conversion off.
Maybe re-trim the back seats, or remove all together and make it nice and neat in the back.
Make a lower strut brace for it
Change the wing mirrors back to standard items – M3 Mirrors = Chav Gashness and should never be seen on a VW ever.
Get it back on the road and bring it to a few shows to meet all you guys.
Plans for next year – well, that's a whole 8months off, but I do have some plans...
Respray it black!! As I don't really like the flip paint. Fit a Roll Cage, which will nicely lead onto my next crazy thought...
Make it RWD... but that's a long way off yet and in a whole different ball park.
Here is a picture as she is today – I want to put the picture up of it like this because this is the last time I want to see it in this state. I'm sure you can agree, this is no way to leave a Rocco, let alone such an rare example. I think there are only 3 like this in the Country???? Maybe somebody can confirm this statistic?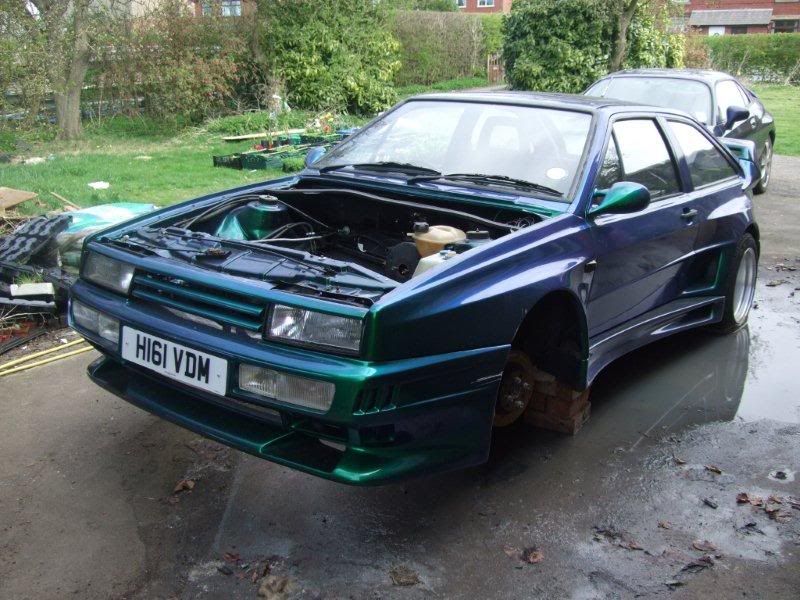 Not pretty is it... This weekend I'm going to re-fit the wheels, bonnet and move it out of the puddle and give it a warm soapy nice wash...
I'll get some more pics after I have done this.
Chaps