Thought id start a thread of my daily driver project. I bought it from sumdarkplace of the forum a few months back, it was built in 82 for the 83 market and its a 1.8 manual. these are the mods carried out before I purchased it-
(cut and pasted from the advert)
Scirocco 16v 256mm front brakes with Golf 16v disks (22mm)
Goodridge braided brake hoses all round
Front upper and lower strut braces
K&N panel filter, with airbox modded
Lowering kit - Springs and shocks (Don't know make, but it's old, and could do with replacing, but doesn't leak)
Supersprint (I think) 4 branch manifold (No cracks)
Home made exhaust with Jetex back box (leaks, blows, knocks, and needs replacing, but sounds like a 90's boy racers' wet dream!)
Audi 2.2 Throttle body (I think)
Believed to have a VR6 or uprated clutch. It's heavy, and works damn well, but can't say for sure.
Mountney small steering wheel
Electric twin fans
Headlight wiring replaced with twin relays
Passat 9" servo
Seat Cupra "stubby" 24mm master cylinder (Brakes are brilliant)
centra turbo alloys
so since ive bought it ive carried out the following-
new wishbones and ball joints
fitted a new mid section and a later mk2 back box which needed a fair amount of modification
fitted the original gti 4 button steering wheel
fitted a stereo
changed boot lid struts
removed front upper strut brace as it was hitting the bonnet
new 155/55 r14 tyres
changed the rear lights as they had been painted red
plans-
needs some welding at some point before mot and when the weathers good
needs a repaint as the body work is poor
wheels need a good polish up, after xmas I think
needs lowering a bit more, the tyre gaps a bit big since I changed to lower profile tyres
ive got a votex roof bar kit I may fit at some point
the interior has been changed at some point but id like to put it back to original, this includes new blue carpet and tracking down some glencheck seats and a 2 part parcel shelf.
engine could do with a service and a tune
going to modify the removed strut brace to fit better and a general tidy up of the engine bay
apart from that I'm using it as my daily and will prob take it off the road when my 20vt scala conversion is complete to repaint and do all the work.
both my rocco's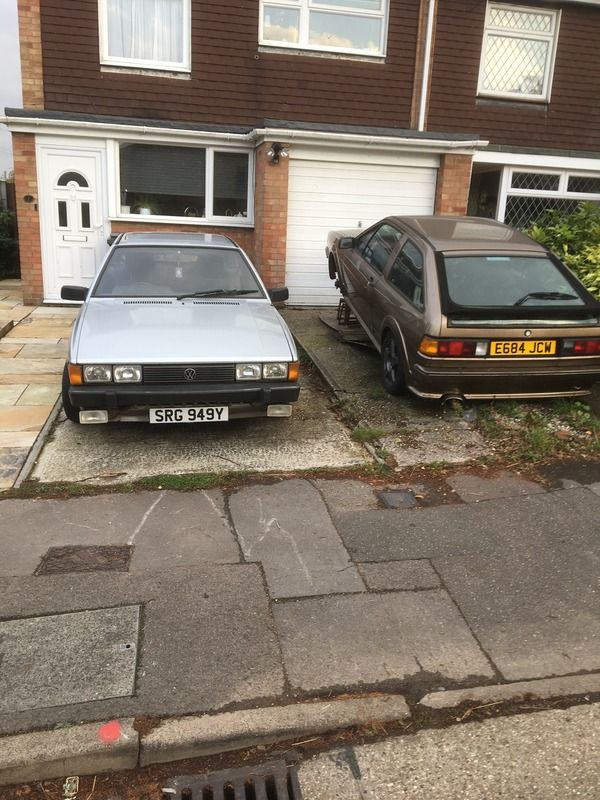 side shot